Large Enough

Premium Printing

Quality Labels

BPA Free
Regular price
Sale price
$9.99
Unit price
per

DELIVERY
Standard Shipping:
S$3.09
, FREE on orders S$37.02+
Estimated to be delivered on
08/06/2022 - 10/06/2022
.
Dual Protection Design: Except an exquisite washable waterproof grey square bag, this pill container also has a premium zipper which has been tested for thousands of times to make it run smoothly. The built-in mesh bag of this pill box organizer is large enough for placing small flat objects such as prescriptions, medical cards and other accessories like keys, all these thoughtful designs make this black pill holder a perfect choice for people's business travel.

Large Capacity: One day one box with date reminder, each pill dispenser was designed with an am/pm compartment to avoid confusion. The dimension of each vitamin organizer is 1.13 * 1.6 * 0.49 inch, so when you're outside during the day, the daily pill box organizer is large enough for holding the pills you need (normally can fit 6 fish oils or 14 capsules), and the black canvas bag can also be used to pack your necessities.

Premium Printing: To avoid the letters and icons from falling off the surface of the large pill organizer, this 7 day pill organizer adopted high-end screen printing ink and performed the ink adhesion test of 3M tape before shipment. In this case, you will never be frustrated with the lack of "Monday" or "AM/PM" icons, and also you don't have to worry about taking the wrong pills.

BPA Free: Made of food-grade PP plastic, this medicine organizer does not contain BPA and is safe for medical use.

Free App. Free smartphone reminder app available for Apple and Android devices so you never forget to take a dose. Simply by taking a photo of your pill and choosing the times for alarms, a notification will pop up on your phone when it is time to take your pills. (Options to set inventory refill reminder and med expiry date alert)
View full details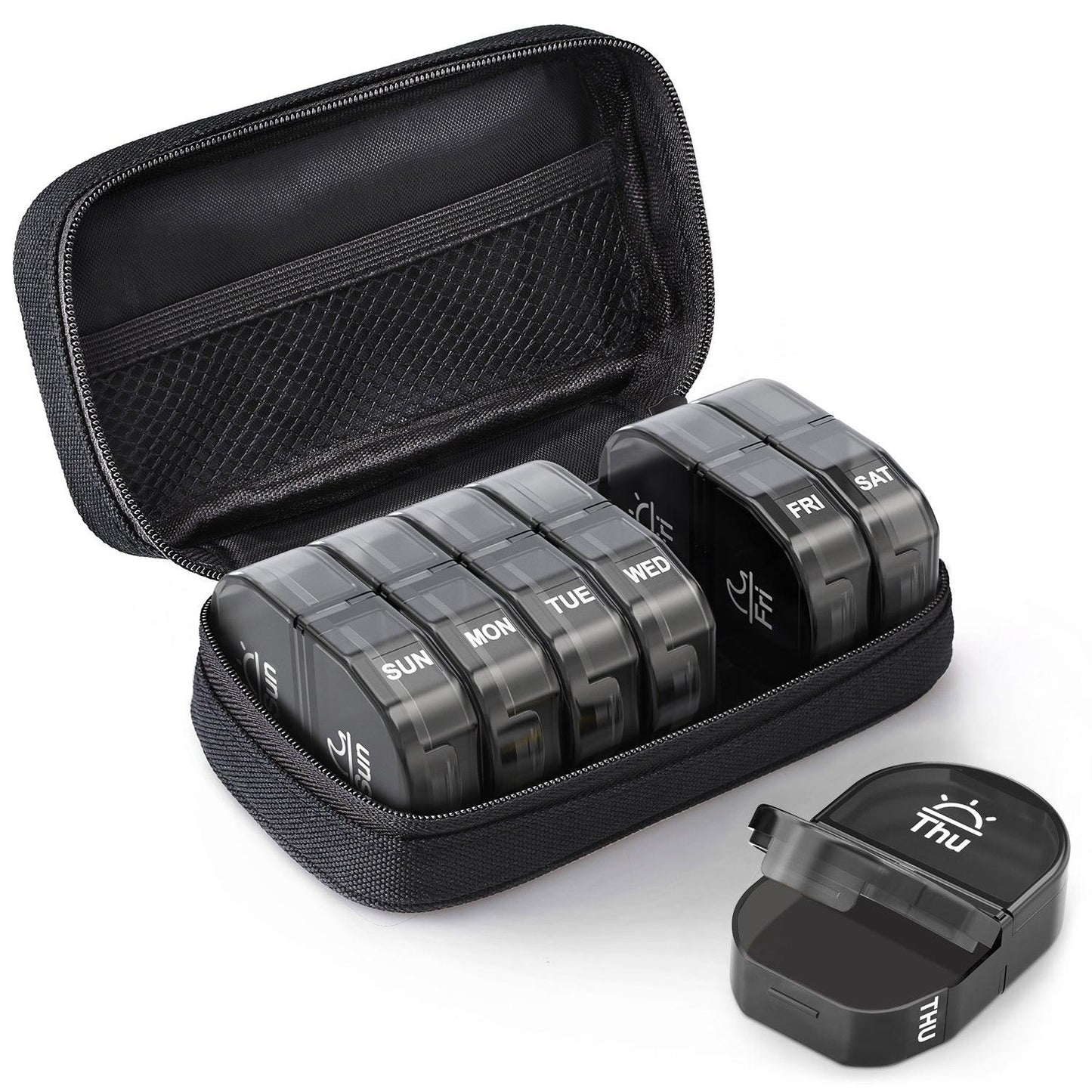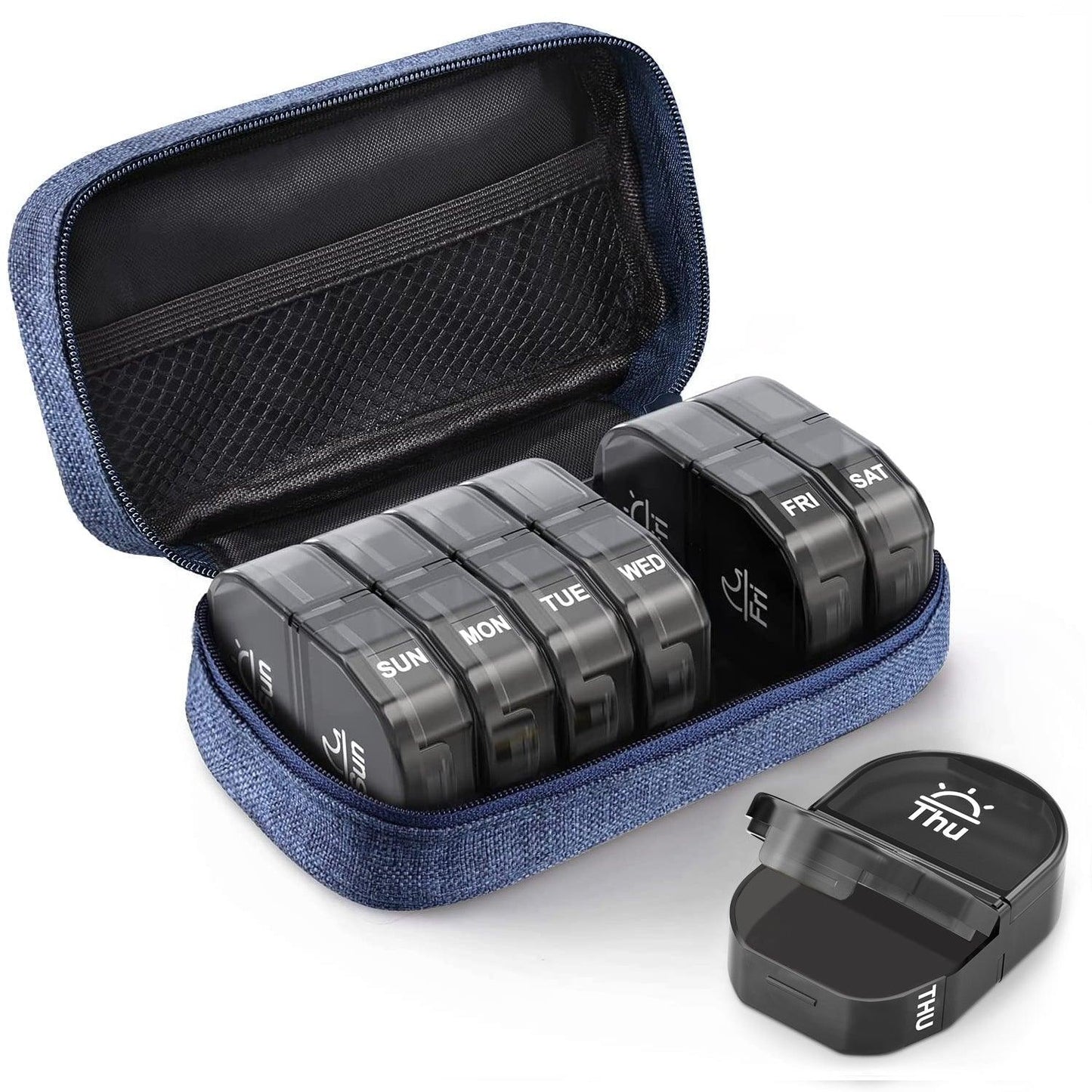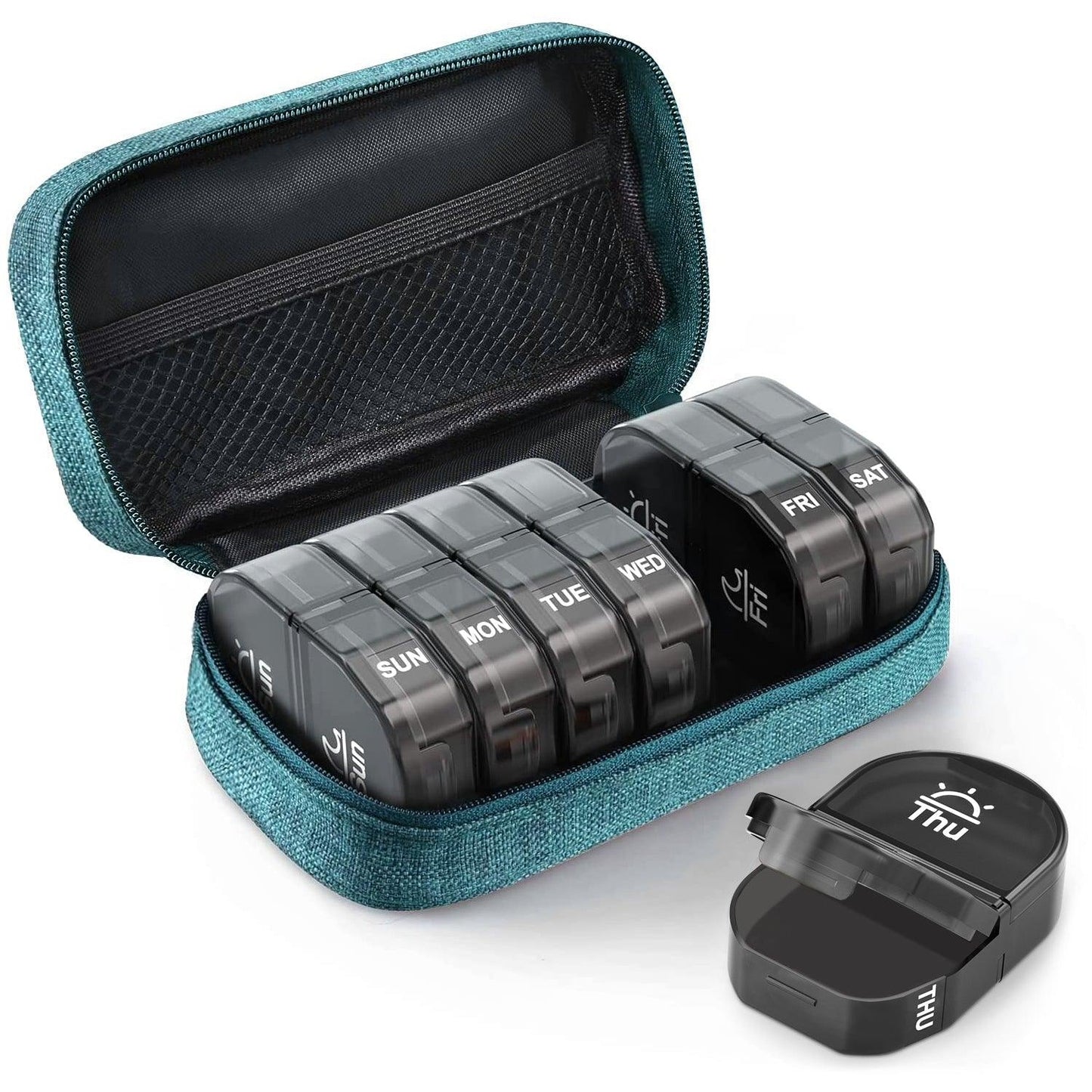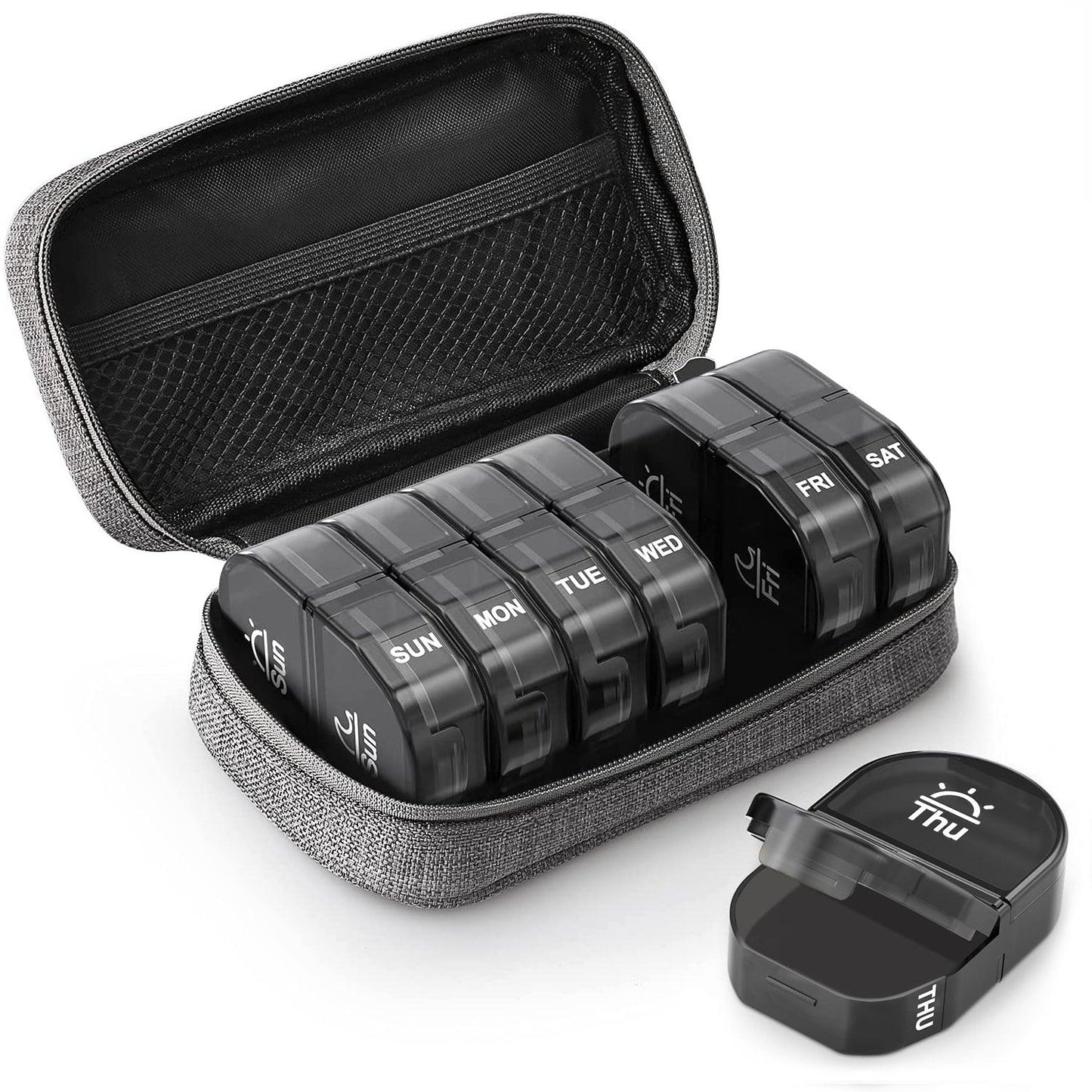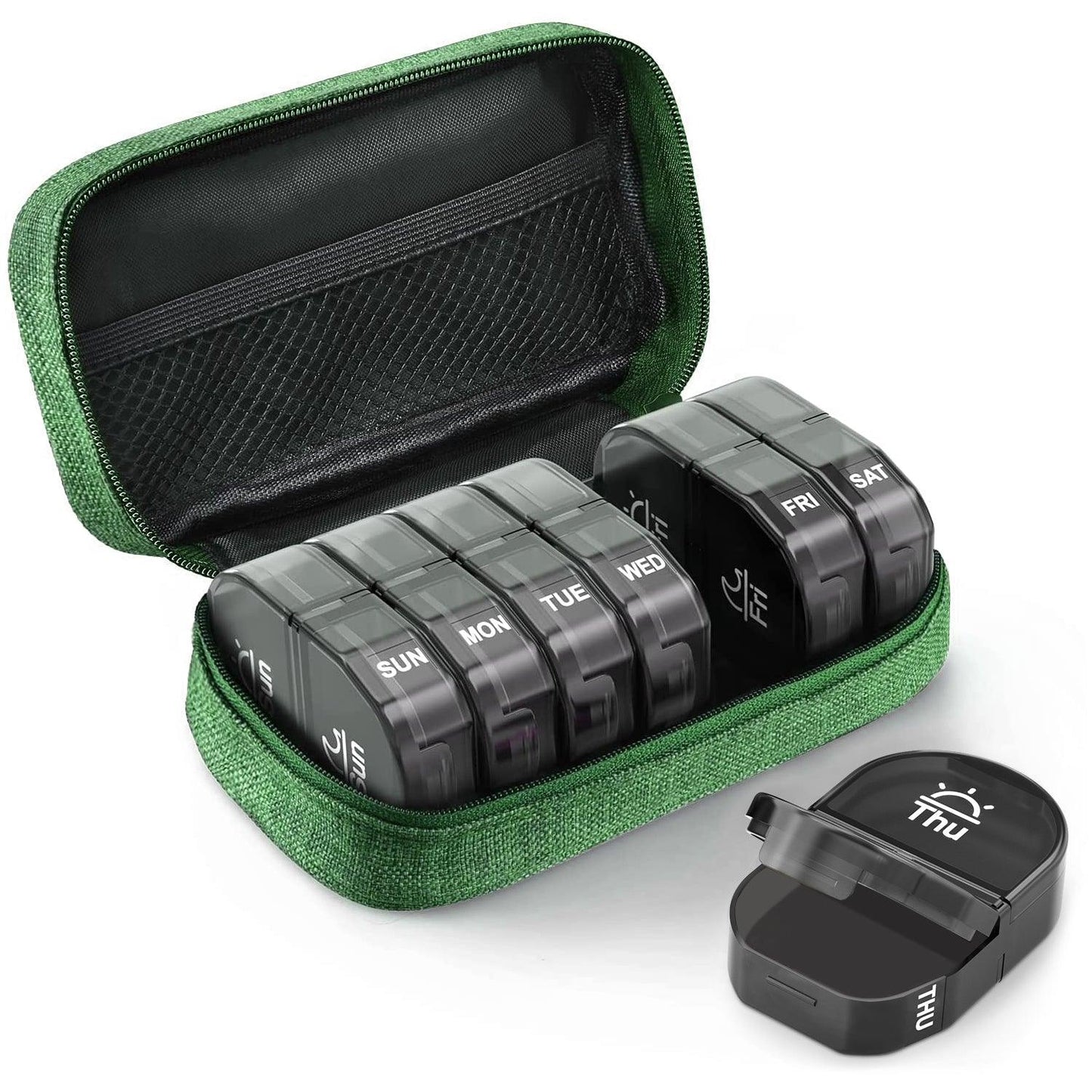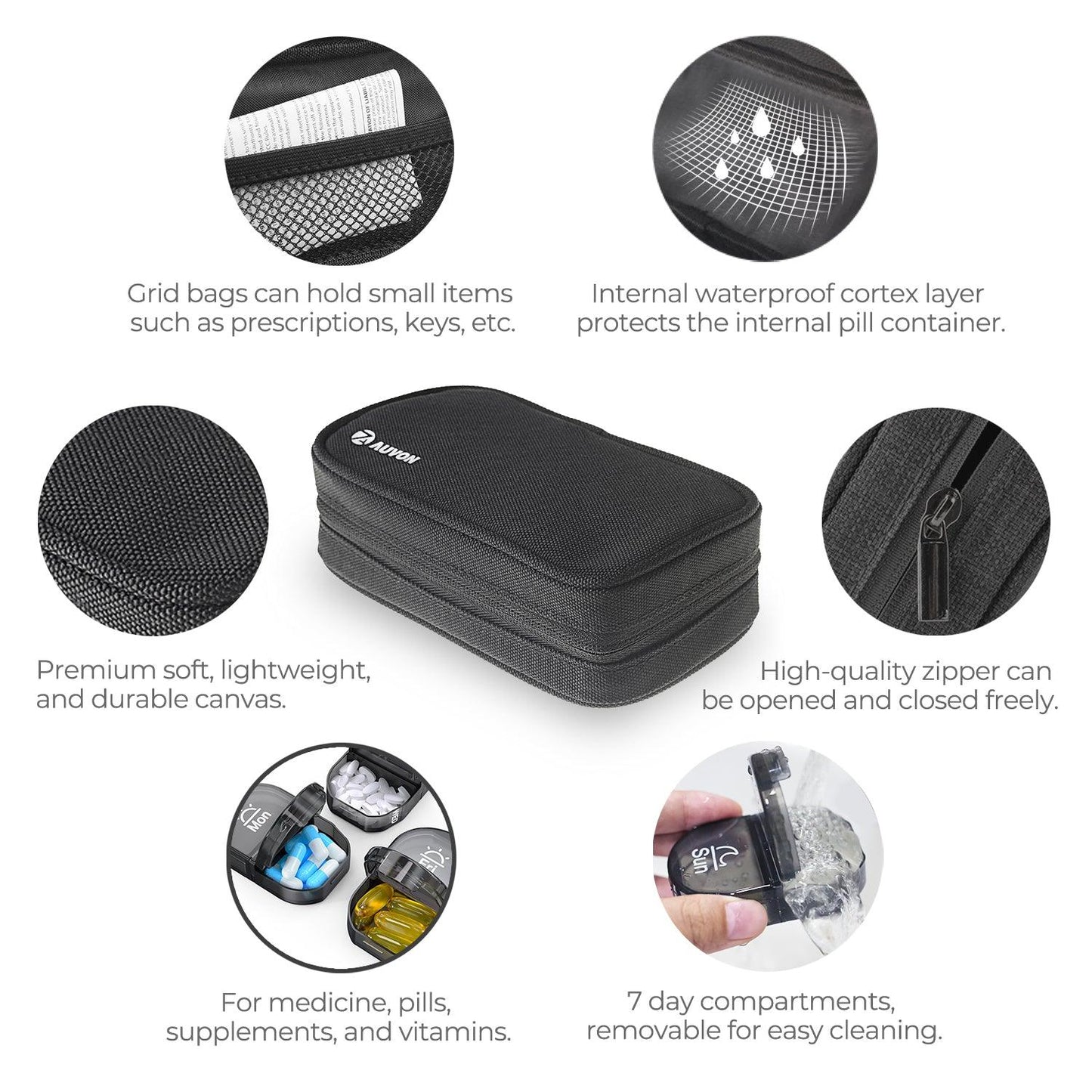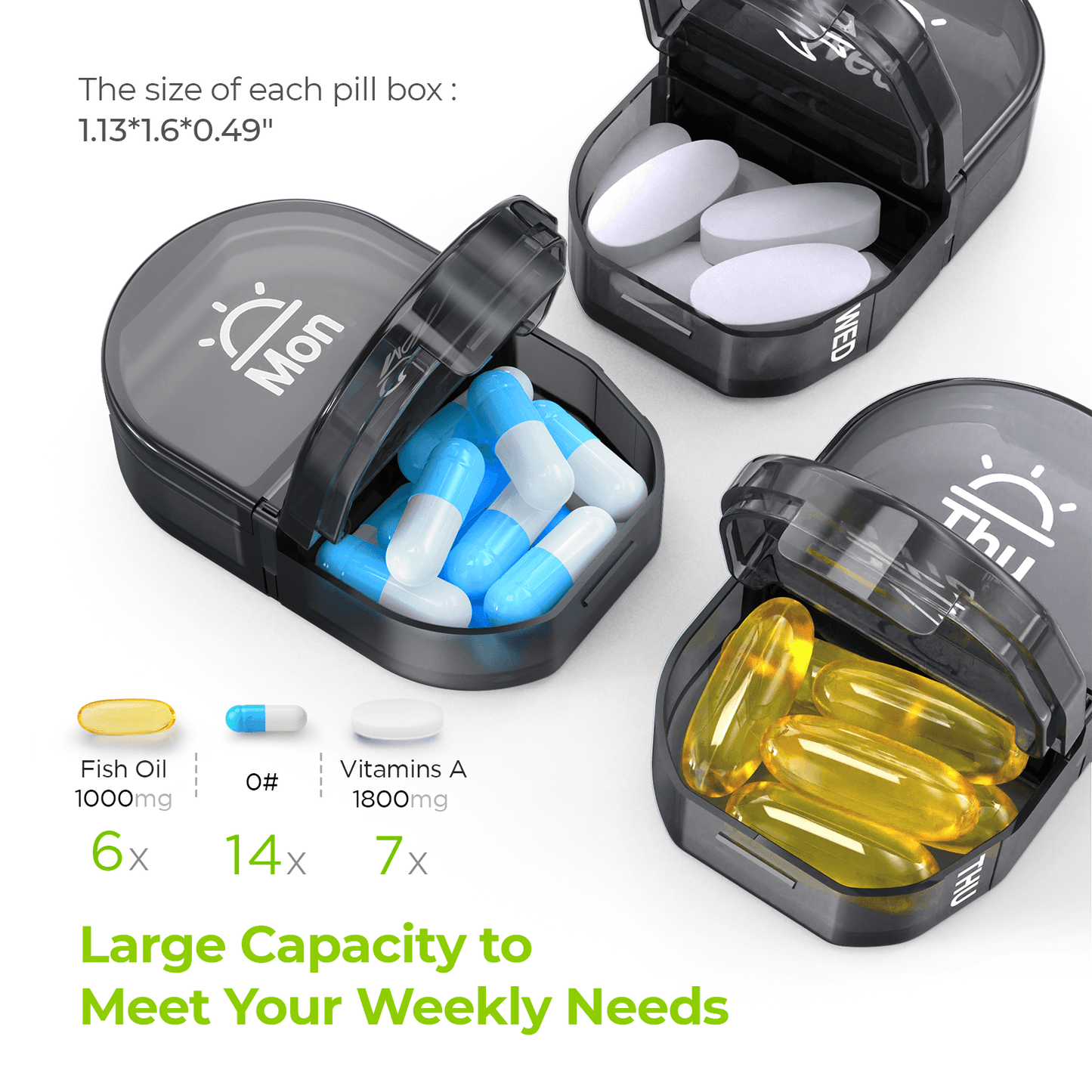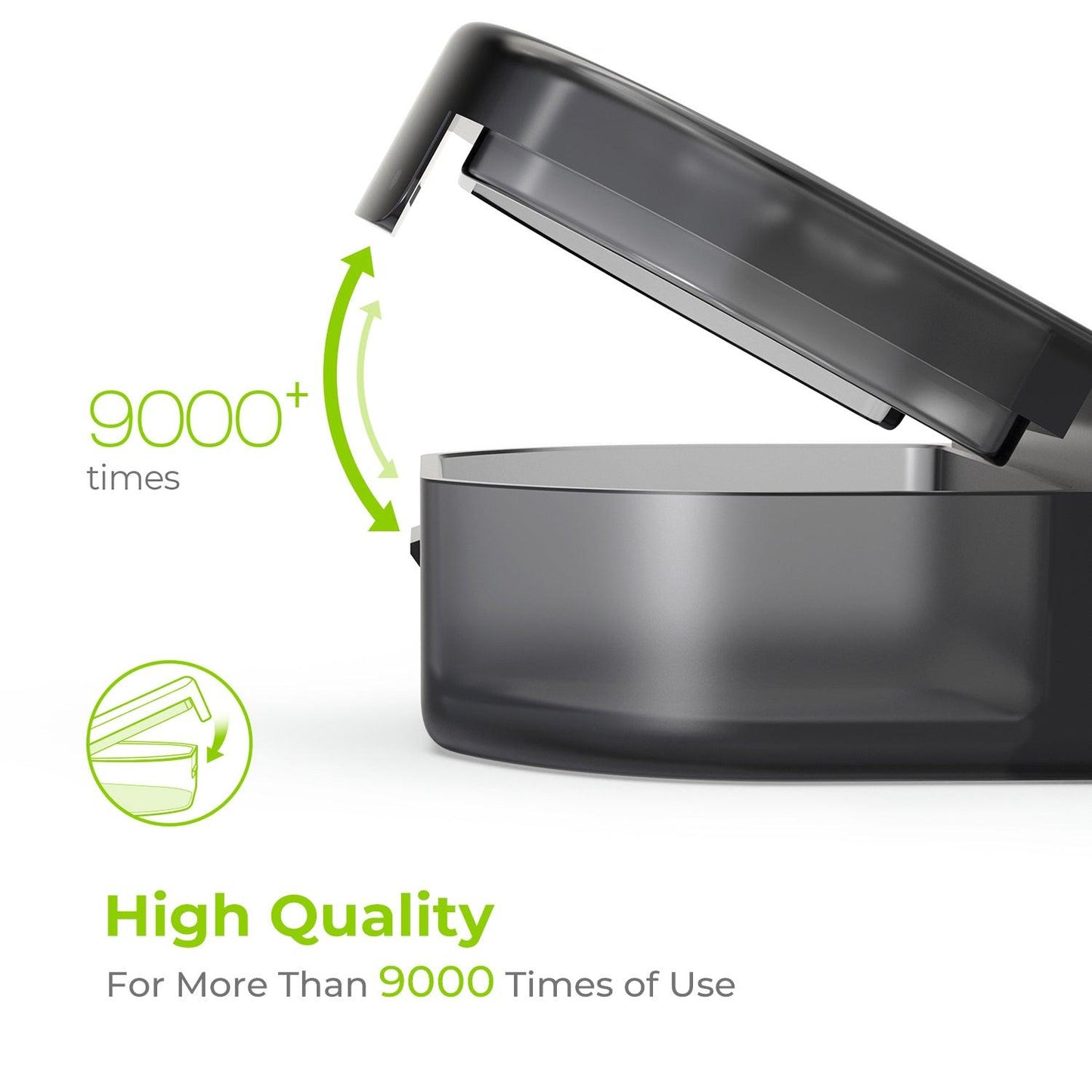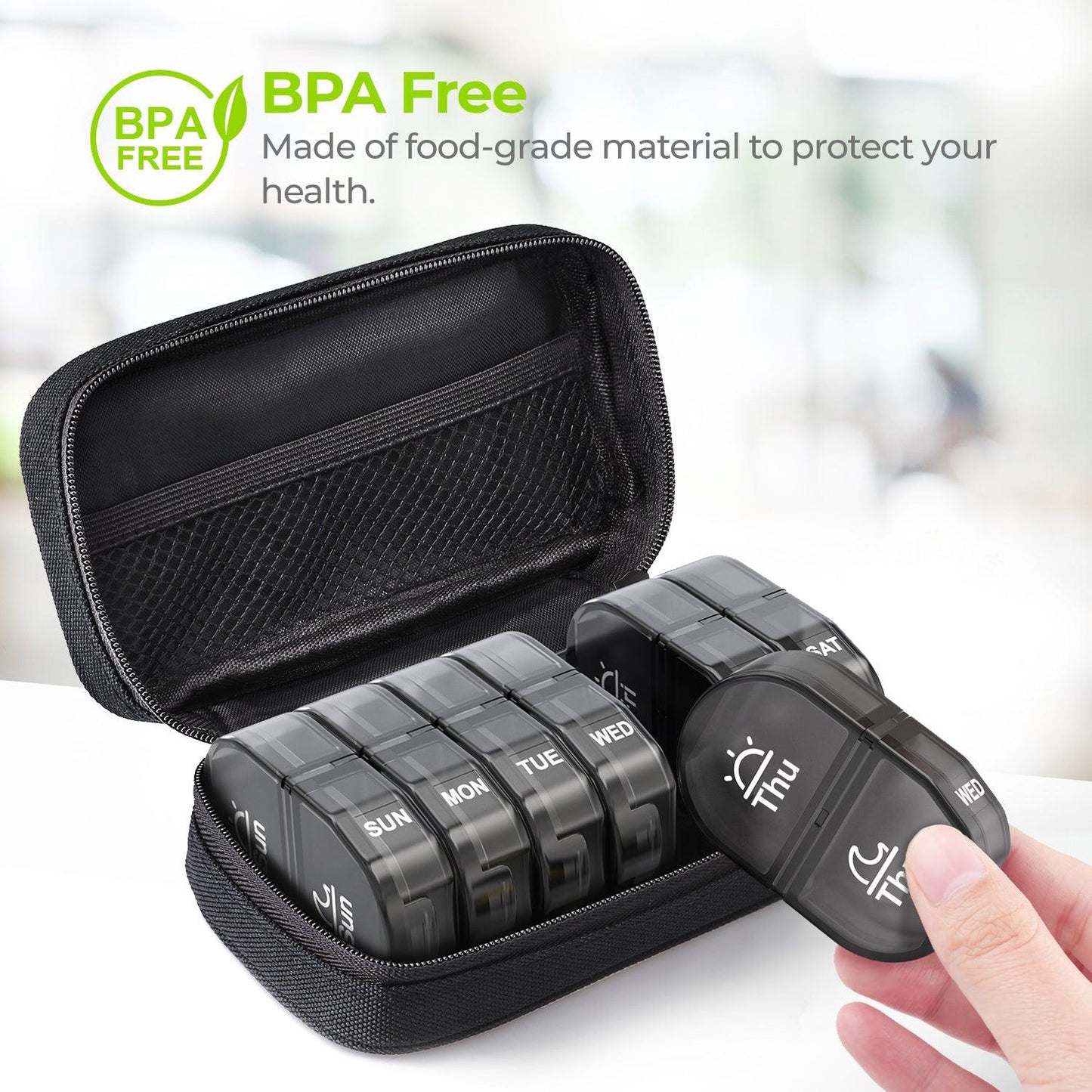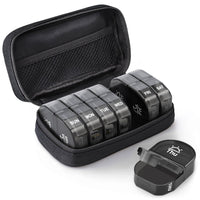 Regular price
Sale price
$9.99
Unit price
per
PRODUCT DETAILS

REVIEWS

REVIEWS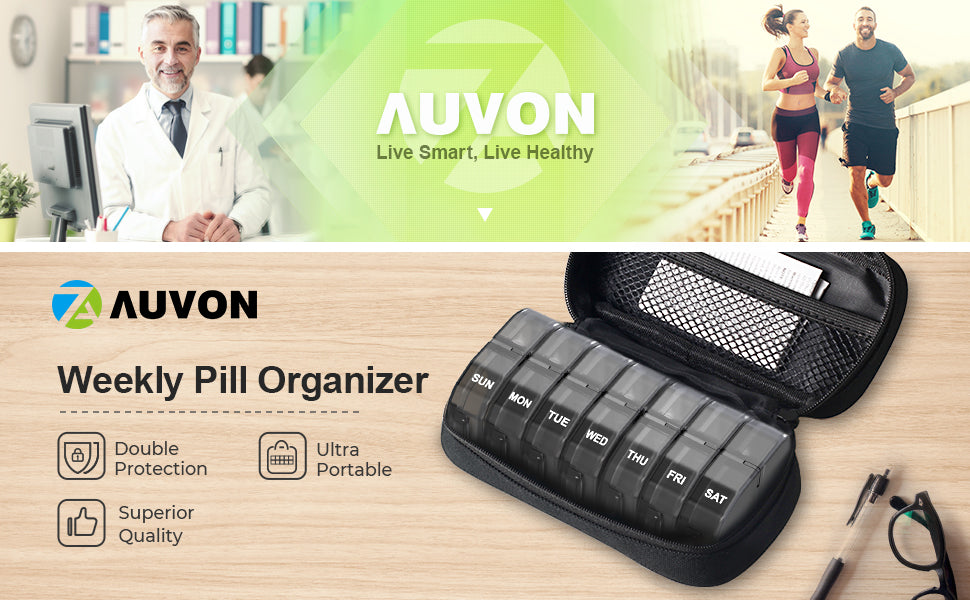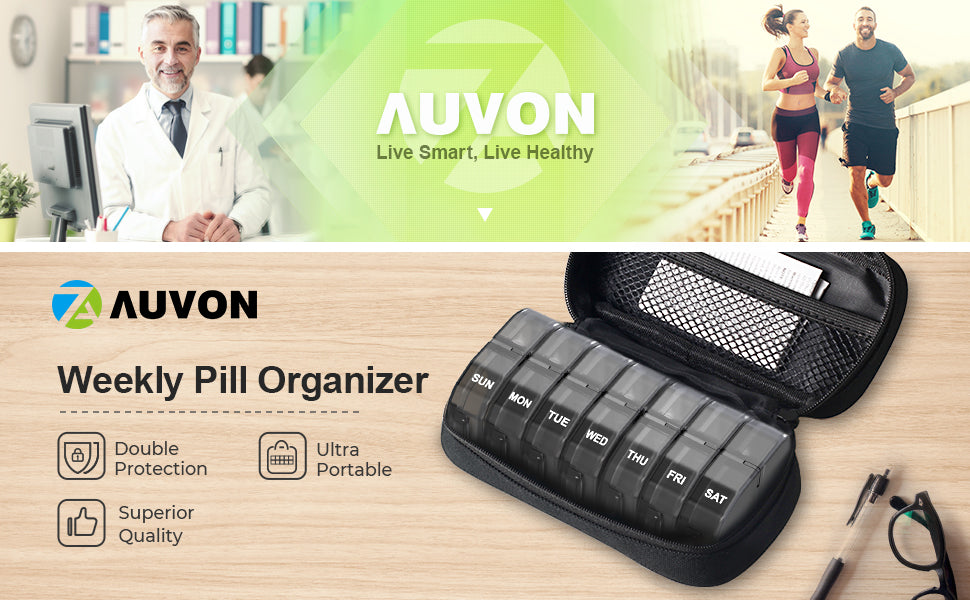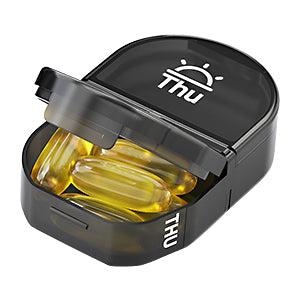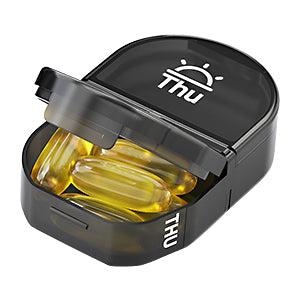 AUVON cloth bag pill case makes your pills or supplements easy to track!Why do we need a pill box?
The pill box is very useful for keeping the pills in order and help you to manage and track your dosage. Plan your pills for a week in advance instead of opening medicine bottles everyday. For travel, make sure the medicines are enough for your on-the-go use. It is easier to check how many pills are left from the pill boxes compared to the bottles.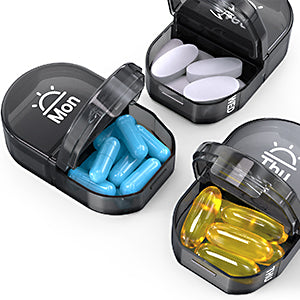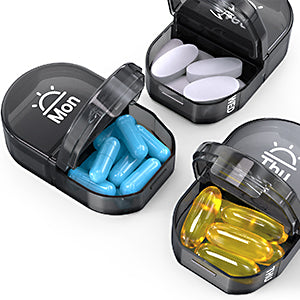 Large Capacity
Total size :6.14 x 3.35 x 2.01 inch Each compartment size: 1.13 * 1.6 * 0.49 inch For Whom to Use? People under multiple medications. People with memory issues. Elders. Kids who need to take vitamins. Caregivers who need to ensure the patients have taken the medicines.
Week Pill Box

No one wants to carry a lot of medical supplies and pills, so this exquisite and practical cloth bag pill box is quite suitable for users. The one week pill box will remind you to take the correct medicine and dose at the scheduled time to avoid taking the wrong medicine or skipping the dose. The cloth bag can also be used to store other items.

BPA Free

The cloth bag medicine box is made of materials without BPA and is safe for storing medicines, so there is no need to worry the pill box may do harm to your body, meanwhile, it is friendly for the elderly to open the compartments.

Week Pill Box

Portable size, large capacity, double protection with external black square canvas bag which is perfectly suit for trip. It can also be a gift from a child to the elderly.