With the increasing convenience of lifestyles, simple and effective TENS products are becoming more and more popular. People do not need to go out, just lie on the sofa and enjoy the services of TENS.
But,there are also many people who do not know about it. What exactly does a TENS as small and portable as a smartphone do? Let us give you a brief introduction.
Principle
Transcutaneous Electrical Nerve Stimulation (TENS) is a non-invasive, drug-free method of controlling pain. It uses tiny electrical impulses sent through the skin to nerves to modify your pain perception. This electrical impulse stimulates your body to produce endorphins,which are one of the body's natural chemicals called neurotransmitters. Endorphins are released when the body is in pain or stress is occurring. Endorphins help reduce pain and lead to feelings of euphoria, modulation of appetite, the release of sex hormones, and enhanced immune response.
Generally speaking, it helps you relieve pain without the use of or in unison with pain medication.
Applicable People
Discovered by research, there are many patients with body cramps who would choose TENS devices to relieve body pain. In order to treat these cramps, TENS machine technology is considered as an important technique. 
We also obtained the following common user groups through research and investigation:
people with sciatica
Various chronic pain groups
Arthritis
intervertebral disc herniation
Postoperative recovery
muscle strain
tennis elbow
Bursitis 
Scoliosis
Pelvic Floor Dysfunction
…
Moreover, with the increasing prevalence of cancer and other chronic diseases, the population living with chronic pain is also increasing. These increasing prevalence of chronic diseases are likely to support the growth of this market. Additionally, with the growing technological advantages, the global population has witnessed awareness about TENS devices since the past one to two years.
Of course, certain cases call for avoiding using a TENS unit because you are electrically stimulating your body. They consist of:
Pregnant Women
Anyone with heart problems.
Anyone with a pacemaker or other electronic or metal implant.
The difference between TENS and EMS
How TENS units vary from EMS units is one of the most often asked questions. Electrical muscle stimulation is referred to as EMS.  Both provide electrical impulses to the user through the use of electrodes and contain buttons with a similar structure and operation.
The purpose for which TENS and EMS machines are utilized differs. TENS machines treat both acute and chronic pain. EMS units are utilized in training programs for muscle building, recovery, muscle relaxation, and cosmetic muscle toning.
A TENS device is for anyone looking for a natural remedy for either acute or chronic pain.
And a person wanting to gain muscle as part of a training regimen is the target audience for an EMS unit.
Simple steps to use TENS Unit:
Clean up painful areas that require relaxation.

Connect the lead wire to a pair of pads and the device.

Stick the patch on a clean spot.

Turn on the physiotherapy device.

Select the channel and mode used, then adjust the intensity. If you are using it for the first time, you can start with the lowest intensity and gradually get used to it.

Set the usage time.
As a company dedicated to making the lives of middle-aged and elderly people around the world better, healthier and more convenient, Auvon has been concentrating on researching TENS technology. At present, there are as many as 10 AUVON TENS&EMS products on the market, and the functions and modes of the products basically cover the needs of buyers. 
We also make the following distinctions between product styles based on appearance:
Classic series: AS1080 、AS8012、AS8012C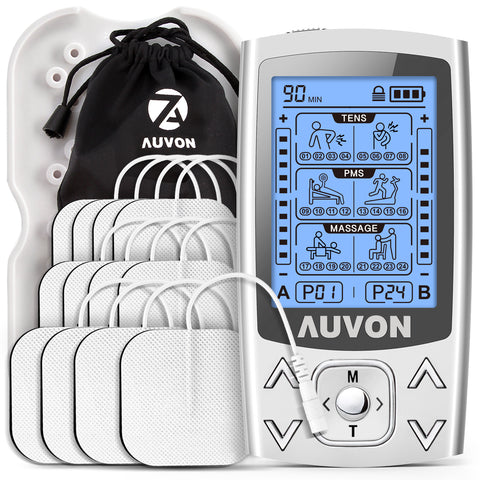 Business series: TU2124、TU2224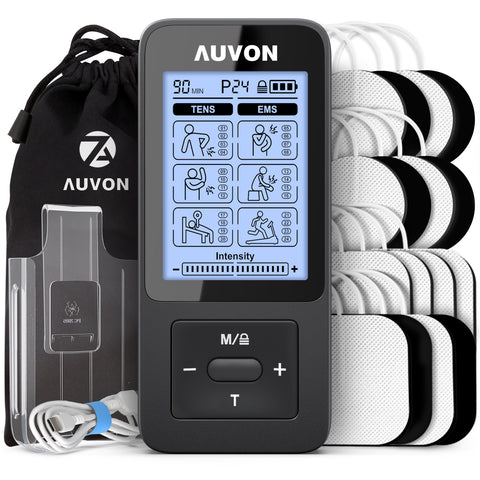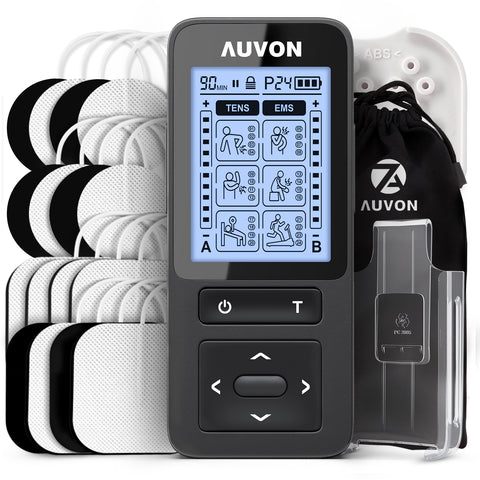 Professional series: TUP324 、TUP429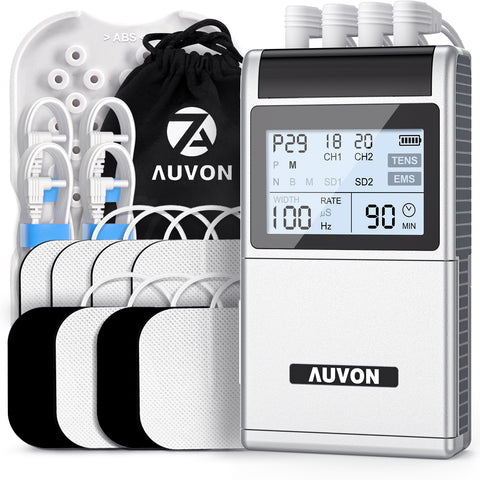 Glass series: AS8016、AS8019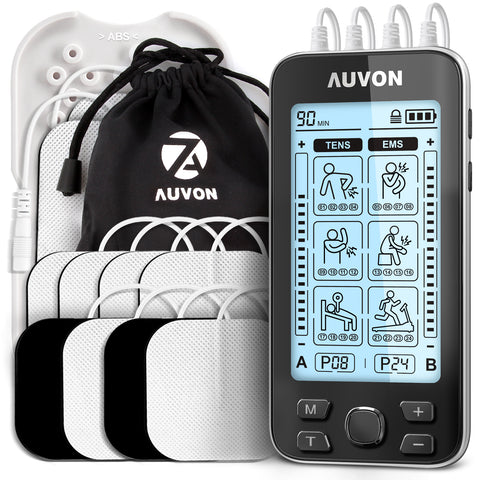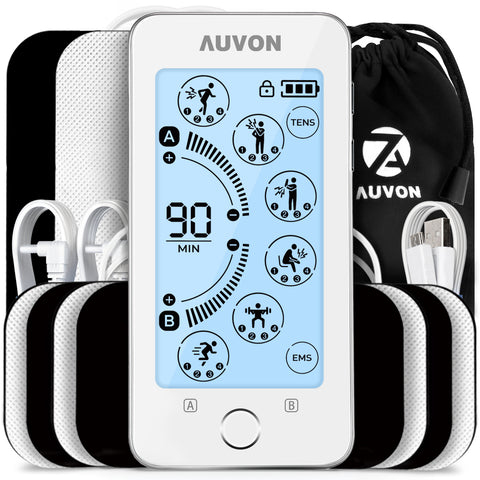 Home series: TU3424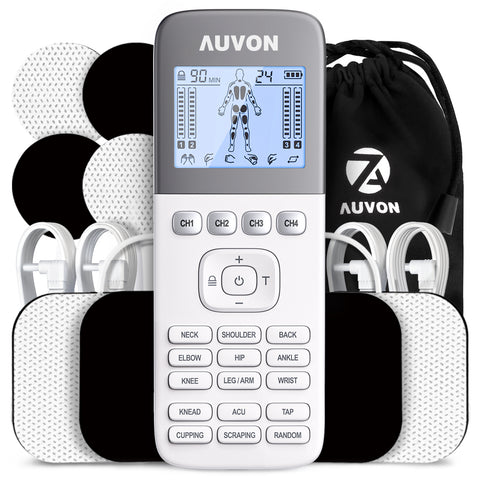 Of course, different series are not only different in appearance, but also in mode and function. For more professional information, please refer to the manual of each product or contact us directly!
In addition, we are constantly innovating products and technologies, hoping to make AUVON TENS product design more user-friendly and intelligent; functions and models are more complete.