Introduction: If you're already familiar with the world of TENS Units, you definitely understand the importance of high-quality electrode pads to maximize the benefits of this revolutionary pain relief device. In today's blog post, we'll showcase the crucial role that TENS Unit pads play in delivering effective pain management and guide you on how to choose and maintain them for their best performance.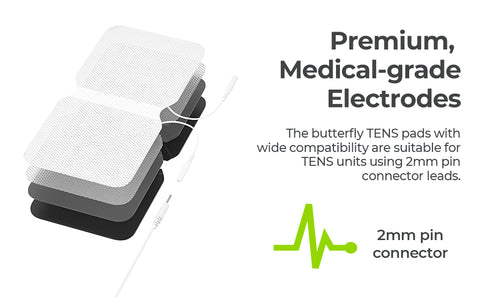 Crucial Role of TENS Unit Pads: The electrode pads are a vital component of the TENS therapy experience. They function as conductors, delivering the therapeutic electrical pulses from the TENS Unit device to the skin and
targeting
the pain source. Proper adhesion and conductivity are critical to achieving optimal pain relief results. Thus, investing in high-quality TENS Unit pads ensures a prolonged and comfortable therapy session.
Features to Look for in TENS Unit Pads:
1.
Compatibility
: Look for universal TENS Unit pads compatible with most standard TENS Units to avoid any compatibility issues between the device and the pads.
2. Reusability and Durability: High-quality TENS Unit pads are designed to maintain their adhesive qualities even after multiple uses. Ensure that your chosen pads are certified for multiple uses without a significant drop in performance.
3. Hypoallergenic and Latex-Free: To avoid skin irritation or allergic reactions during TENS therapy, opt for pads made with hypoallergenic materials and free of latex.
4. Conductivity: Effective pain relief depends on the ability of the TENS Unit pads to transmit electric pulses. Opt for pads offering superior conductivity and proper adhesion to ensure optimal results.
Maintaining Your TENS Unit Pads:
1. Always clean and dry the area of skin where the electrode pads will be applied. 2. After each use, place the protective film back on the adhesive side of the pads to maintain their stickiness and to avoid any contamination.
3. Store the pads in a sealed bag in a cool, dry environment when not in use.
4. Regularly inspect the pads for any signs of wear and tear, cracks, or diminished adhesion. Replace them when necessary to maintain the effectiveness and safety of your TENS therapy sessions.
Conclusion: A TENS Unit is only as effective as its electrode pads, and choosing high-quality TENS Unit pads is essential for unwavering pain relief. By understanding their importance, selecting the right features, and taking care of them, you can extend your pain relief journey and enjoy the many benefits that TENS Unit therapy has to offer. Invest in high-quality TENS Unit Pads today for a comfortable and effective pain management solution.