Introduction: Sticking to a regular medication schedule is crucial for maintaining optimal health. However, it can be challenging to keep track of multiple pills and dosages, especially for busy individuals or those with memory issues. A pill organizer is a simple yet incredibly beneficial tool for managing medications efficiently. In this blog post, we will discuss the advantages of incorporating a pill organizer into your health routine and how to choose the best one for your needs.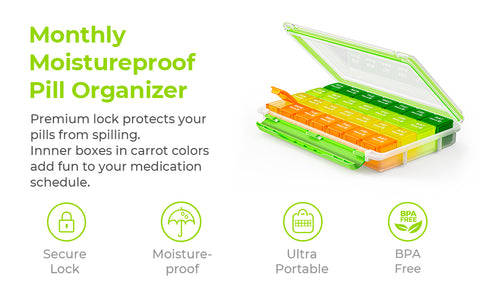 Ease the Struggle: Pill Organizer Advantages
1. Simplify Medication Management: Pill organizers provide a clear and easy way to sort medications and supplements by day, week, or even month. No more fumbling through multiple pill bottles or struggling to remember if you've taken your medicines already.
2. Improve Adherence: A pill organizer keeps all your medications in one place, making it easier to follow the recommended schedule and increasing the chances of achieving the desired outcomes.
3. Reduce Stress: Managing complex medication schedules can be mentally taxing. Pill organizers help alleviate anxiety and stress by ensuring you always know which pills to take and when.
4. Travel-Friendly: Preparing medications for vacations or work trips can be a hassle. A compact pill organizer saves time and space, making it easy to transport your essential medications.
Choosing the Right Pill Organizer: Consider the following factors when selecting a pill organizer to suit your unique needs:
1. Size and Compartments: Ensure the pill organizer has adequate compartments for sorting all your medications throughout the day. If you take pills multiple times a day, opt for an organizer divided into morning, afternoon, evening, and night sections.
2. Portability: If you're constantly on the go, consider a compact and travel-friendly pill organizer.
3. Easy to Open and Close: Those with dexterity issues may benefit from an organizer with easy-to-open compartments that prevent spillage but are still accessible.
4. Durability and Material: Invest in a high-quality, sturdy pill organizer made from safe materials such as BPA-free plastic.
5. Visuals: Pill organizers are available in various colors and designs. Choose one that brings you joy and matches your personal style.
Conclusion: The decision to incorporate a pill organizer into your medication management routine is a small but significant step towards maintaining a healthier lifestyle. Discover the benefits of a well-organized and stress-free way of staying on top of your medications. Invest in a pill organizer today and experience a positive shift in your health journey.